Barry Manilow - From $86
Catch Barry Manilow rocking the Vegas stage inside the Westgate with more than 50 top hits.
Barry Manilow - From $86
Book by: June 11, 2022
Vegas Concerts
Multi-GRAMMY Award-nominated duo Silk Sonic announced it will have an extended engagement at Dolby Live at Park MGM in Las Vegas! Experience the music of
Read more…
Soul of Motown is a high-energy concert-style musical tribute show honoring Motown legends. Rated the #1 show of its kind
Read more…
AN EVENING WITH WHITNEY : THE WHITNEY HOUSTON HOLOGRAM TOUR An Evening With Whitney : The Whitney Houston Hologram Concert
Read more…
GRAMMY, TONY, and EMMY Award-winning singer-songwriter, arranger, producer and musician, Barry Manilow announced today that he will be returning to Las Vegas with a brand new stage production to perform his extensive catalog of hits as the exclusive headliner at the Westgate International Theater at Westgate Las Vegas Resort & Casino.
The legendary entertainer will return to where he previously made his spectacular residency debut on February 24, 2005. The 85-minute show will celebrate his well-loved greatest hits.
"I have nothing but great memories of my seven years performing in Las Vegas," said Manilow. "I'm very excited to be returning. Get ready, Las Vegas! Here I come!"
"Barry Manilow is an icon and one of the world's greatest performers," said David Siegel, Founder & CEO of Westgate Resorts. "We are thrilled to be welcoming him back to our historic stage so that he can once again make it home. Our guests will be delighted by his repertoire of more than 50 Top-40 hits."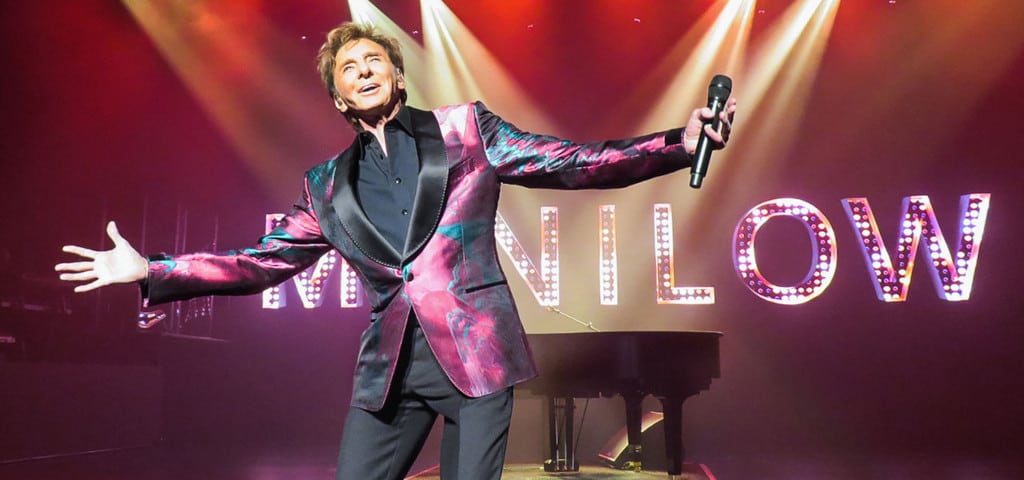 Barry Manilow returns to Las Vegas for a new stage production, The Hits Come Home. He's promised to fit in as many hits as he can from his decades-long career with a new resident show and new features. Manilow is beloved for his songwriting, singing, and even acting talents. He's made numerous cameos on shows like Will & Grace then served as guest judge on American Idol. He's gone from Donnie and Marie to The Tonight Show and has dominated the globe with over 85 million albums sold and 50 Top 40 Hits. In his career he's had 5 albums on the music charts at the same time, a feat previously accomplished only by Frank Sinatra, Johnny Mathis and Michael Jackson. There's no questioning his talent or his massive fanbase: the Fanilows!
If you're a "Fanilow" or just looking for a night of great music by one of America's legendary performers, make sure you make your way to Westgate Las Vegas for a fantastic concert. The Westgate is the perfect place to enjoy some of Barry's more romantic tunes like "Can't Smile Without You" and "Mandy." Of course it's also a great place to enjoy more upbeat songs like "Copacabana" as you enjoy the intimate setting in Vegas.