Opium
Little bit of everything Vegas packed into one show!
Opium
Book by: December 31, 2022
Vegas Variety Shows
"Absinthe," is the critically acclaimed acro-cabaret variety show. "Absinthe" is performed in the round with unobstructed sightlines and in intimate
Read more…
America's Got Talent Las Vegas Live comes to the Luxor!  The show is a 75-minute featuring show-stopping moments ranging from
Read more…
Overload your senses by experiencing one of the many marvellous Las Vegas shows with our Las Vegas Show Promotions. The
Read more…
Journey on a trip to a new dimension of entertainment with OPIUM, the new show at The Cosmopolitan of Las Vegas from the creators of Absinthe. What is OPIUM? It's fast, funny and funky. Completely off the planet. Remember the good old days when you sauntered into a Las Vegas showroom, martini in hand, while a pack of comedians and crooners bantered in front of the house band? Even if you do, one thing's for certain: it didn't look like this. Slip through the crack in the space/time continuum for a close encounter with a spaceship of fools.
Spiegelworld began creating its immersive live entertainment experiences in New York City in 2006.
At the core of this seductive world was a unique venue – a century-old Belgian spiegeltent beautifully crafted from teak, stained glass, mirrors and luxurious velvet.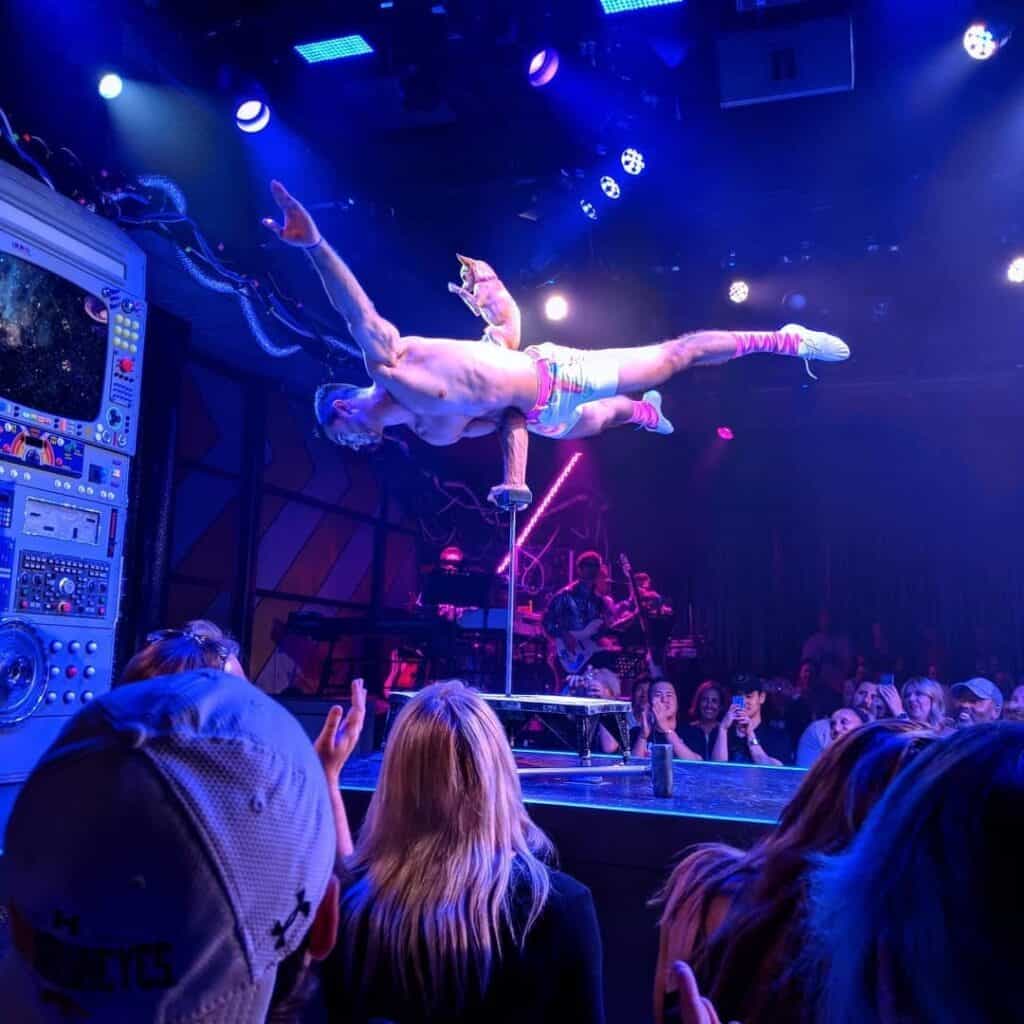 Surrounding this wondrous travelling tent from a bygone era, Spiegelworld added an eclectic playground to party in before and after the show including a raucous biergarten, speak-easy bars, hammock gardens, secret VIP nooks and a labyrinth of curiosities.
The tiny circular stage at the center of the intimate spiegeltent informed the creation of all of Spiegelworld's ground-breaking live shows which reinvented circus, cabaret, vaudeville and burlesque for a 21st century audience. A larrikin Australian creative team and the most talented, sexy and daring artists from across the globe presented breath-taking physical feats, outrageous comedy and seductive teases as close to the audience as they could possibly get.
Sold-out shows including Absinthe, La Vie, Desir, and Gazillionaire's Late Nite Lounge established Spiegelworld as a place where the performances are extraordinary, anything can happen, and the show is just the start of the party. In 2011, Spiegelworld opened its award-winning show Absinthe on the forecourt of Caesars Palace in Las Vegas. The production has been hailed as "the most inventive and daring show to open on the strip in years!" (Las Vegas Sun), and was announced the "Best Show in Vegas" by Vegas Seven Magazine. In 2018, Spiegelworld announced that it is creating a new show Opium at The Cosmopolitan of Las Vegas.