Santana - From $138
Santana hits House of Blues Las Vegas with his trademark vibe.
Santana - From $138
Book by: May 18, 2022
Vegas Concerts
For more than four decades, Sammy Hagar has been recognized as one of the best and most accomplished lead singers
Read more…
GRAMMY, TONY, and EMMY Award-winning singer-songwriter, arranger, producer and musician, Barry Manilow announced today that he will be returning to
Read more…
Sting brings his "My Songs" residency to The Colosseum at Caesars Palace. The show will be a compilation of Sting's
Read more…
Santana performs at the intimate venue where fans have partied all night within a few feet of the musical icon!
House of Blues Las Vegas at Mandalay Bay Hotel has been uniquely reconfigured for the special Santana Greatest Hits Live show. Enjoy an evening of intimate Santana with his No. 1 hits and memorable songs from several decades! Fans within a few feet of Carlos can select from several intimate locations within the venue, from a limited number of exclusive VIP packages including meet and greets, limited edition photos, specialty dining/beverage packages and stage-side specialty dining.
House of Blues Las Vegas at Mandalay Bay has been home to Santana's live concert since 2012. Fans have been able to party all night within a few feet of the musical icon. "It is an honor to call House of Blues in Las Vegas my home," Carlos Santana said. "We love the intimacy at HOB. Every day, we look forward to create newness, freshness and connect people to their own light with what we have and who we are – The Universal Tone." The feeling is mutual. "We're happy to have Carlos back. We've had an amazing run with him — virtually every show was a sell-out. He's the perfect superstar talent appearing in a perfect venue that gives our audiences an intimate experience that can't be found anywhere else," said House of Blues President Ron Bension.
For forty years and as many albums later, Santana has sold more than 100 million records and reached more than 100 million fans at concerts worldwide. To date, Santana has won ten GRAMMY Awards and three Latin GRAMMY Awards. He won a record-tying nine GRAMMYs for a single project for 1999's Supernatural (including Album of the Year and Record of the Year for "Smooth"). He has also received the Billboard Century Award (1996), was ushered into the Rock and Roll Hall of Fame (1998), and received the Billboard Latin Music Awards' Lifetime Achievement honor (2009). Among many other honors, Carlos Santana has also been cited by Rolling Stone as #15 on their list of the "100 Greatest Guitarists of All Time." Celebrating the chart debut of Guitar Heaven (Arista) in 2010, Santana joined the ranks of the Rolling Stones as the only musical act in chart history to score at least one Top 10 album in every decade beginning with the 1960s. In 2013, Carlos Santana was the recipient of the 2013 Kennedy Center Honors Award. Santana's new album CORAZÓN (RCA/Sony Latin Iberia), due out May 6, 2014, is a collaborative effort with the biggest names in Latin music.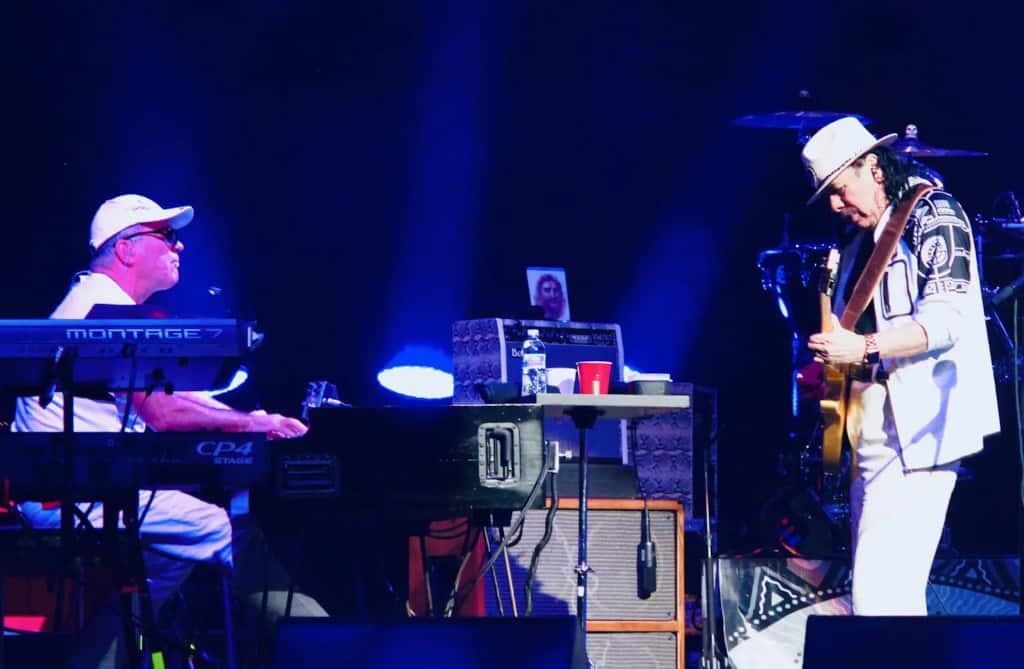 About House Of Blues Entertainment:
With 38 owned/operated and affiliated clubs and theaters, The House of Blues Entertainment (a division of Live Nation) portfolio is wide-ranging including the legendary Fillmore brand and the intimate House of Blues clubs throughout the United States. House of Blues Entertainment is the country's pre-eminent live music venue collection featuring state-of-the-art sound and lighting technology in one-of-a-kind custom designed environments aimed to bring fans and artists together in unparalleled musical environments.
Sail through the decades as Santana Greatest Hits Live takes you on a musical journey through his career. Cheap tickets for Santana at House of Blues Las Vegas are available now.