Gordie Brown - From $23
Gordie Brown is back at it again with his on-point impersonations of Hollywood's most famous A-listers live at the Golden Nugget.
Gordie Brown - From $23
Book by: July 30, 2022

Gordie Brown - From $15
Awesome impersonator and a wonderful singing voice to go along with the comedy. Do not miss this show.
Gordie Brown - From $15
Book by: July 30, 2022
Vegas Impersonators
In its 18th smash hit year, The Rat Pack is Back is at the Tuscany Casino. Frank, Sammy and Dean
Read more…
Recently voted "The Best Beatles Tribute in the World," Beatleshow is for any fan of the legendary and iconic rock
Read more…
Overload your senses by experiencing one of the many marvellous Las Vegas shows with our Las Vegas Show Promotions. The
Read more…
An accomplished musician and composer, and extreme music lover, Gordie Brown Live brings a diverse musical prowess which has been an integral part of his career in entertainment. From writing and recording the theme song for the Emmy-Award winning animated series "Life with Louie", to performing his popular musical parodies on stage, to writing and producing a growing collection of original compositions, Gordie's music has gained notoriety in every corner of entertainment.
Gordie Brown started as a political cartoonist for the Ottawa Sunday Herald in Canada. His co-workers entered him in a lip- syncing contest without telling him, and Gordie ended up taking first prize. From there he decided he wanted to learn the real voice and not just lip- sing. After sitting front row at a Rich Little show in Ottawa, Gordie was incredibly focused and inspired to go after a career just like that. He packed his bags and headed towards the bright lights of Las Vegas, Nevada. Once in Las Vegas, Gordie was fortunate enough to open for my fellow Canadians, Rich Little and Paul Anka. There was no turning back.
Later a move to Los Angeles to begin his career in stand-up comedy where he had his national television debut on A&E's "Evening at the Improv." From there Gordie was approached by Harrah's Corporation to headline his own, one-man show in Reno, Nevada where he received numerous awards, including "Entertainer of the Year", "Best Comedian", "Best Show", and "Best Entertainer."
Returning to Las Vegas Gordie headlined at many different venues such as The Golden Nugget, The Venetian, and Planet Hollywood. Plus he also made television appearances on the "Late Show with David Letterman", the "Late Late Show with Craig Ferguson", and "EXTRA!". He took a short 7 month break from Las Vegas and joined Celine Dion on the North American leg of her "Taking Chances" world tour. The energetic combination of comedy, music, and impressions had the audiences on their feet every night.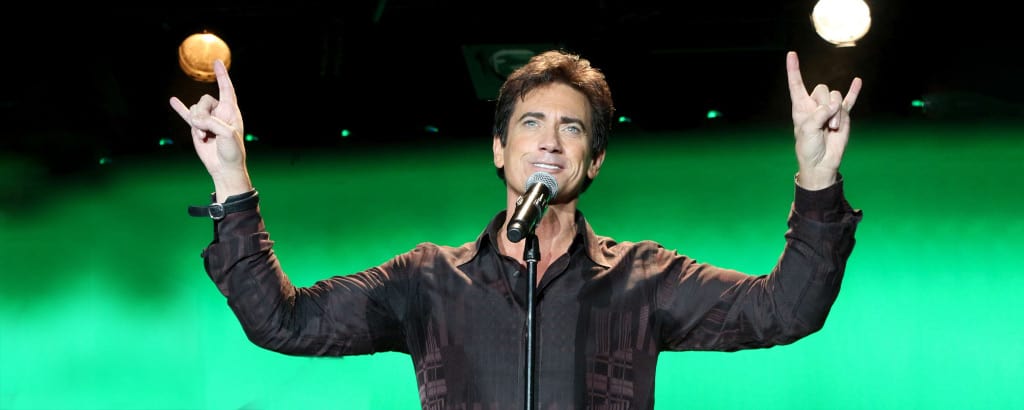 The stage show consists of comedy and musical impressions, which are performed in front of a live, five-piece band. The show is high energy, fast-paced comedy. Gordie is constantly honing his skills and developing his talents. Gordie Brown's goal is to make sure you never see the same show twice.
Singled out as a 'great entertainer' by Celine Dion, Brown delivers spot on impressions of such notable celebrities and artists as Garth Brooks, Robert DeNiro, Elvis, Michael Jackson, Jack Nicholson and many more. Gordie Brown Live Unplugged combines the best of Las Vegas entertainment into one nonstop high energy show. With comedy, singing and talent beyond compare, Brown's return to the Strip in an intimate venue will be a must see.